Bocage Ratings and Reviews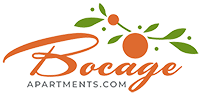 3502 Bocage Drive

,

Orlando

,

FL

,

32812




(407) 281-4134




https://www.bocageapartments.com

See what other people are saying about our apartments located in Orlando! At Bocage Luxury Living, we value all our residents voices, and can't wait for you to see our luxury apartments for yourself. If you have any comments or suggestions, feel free to let us know! We appreciate the feedback, good or bad.
---
Great and affordable apartment complex to live in. Itâ??s convenient to everything you need. PeggyAnn is the complex manager, she and the rest of the staff are friendly and do a great job keeping the complex clean and the maintenance up.
As far as apartments go, you won't find better for the price in this area. It has its issues, but most apartment complexes do. Rent is affordable, the residents are a nice sort of people. Maintenance is friendly. It is located on a safe part of Conway and conveniently close to 7-11. The lawn company does a terrible job, and the pool could stand to be cleaned more. All in all, it's a good place to live if you are going to choose an apartment.
Quiet, safe, and very well maintained property! The women in the office as well as the maintenance men are very pleasant people! I highly recommend Bocage!